Mediators Are Experts At Untangling Conflict
Conflict is a stranger to no one. We encounter it daily beginning with our morning commute and we experience conflict on different levels as we interact with individuals throughout the day. Often minor differences can be  quickly resolved through compromise, accommodation, or collaboration. However, sometimes a situation can escalate to the point where the people involved become entrapped in the conflict like the swans in the video below despite their best efforts to untangle themselves. In these type of situations, sometimes an outsider such as a mediator can help individuals get unstuck.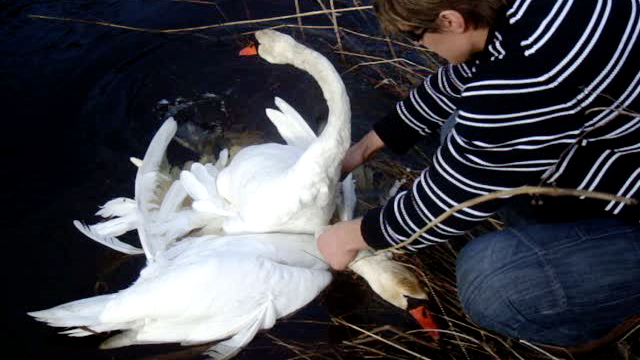 Photographers in Latvia saved the lives of two male mute swans, which likely got stuck together while fighting for territory. Source: www.nationalgeographic.com
Being entangled in constant opposition is financially, mentally, and physically exhausting. When you have experienced the frustration of an unresolved issue, it can seem like there is no way out. On the contrary,  there is a peaceful less stressful way of getting issues resolved known as mediation. Mediation is an informal and confidential meeting in which  one (or more) individuals named the mediator listens to each side of the dispute and guides individuals to a mutually agreeable resolution.
What is a mediator?
A mediator is a neutral, impartial third party who facilitates a constructive dialogue between disputing parties. The intervention of an unknown person to help settle a conflict can be intimidating; however, for the mediation process to work the mediator cannot have a vested interest in the outcome.  Lack of familiarity with disputing parties serves to protect mediators from unethical conduct as a neutral. With advanced training in conflict resolution and negotiation, mediators offer a way to build mutual understanding and objectivity. They are experts at helping individuals generate creative solutions as well as giving possible solutions for the disputants to consider.
For over 30 years, Dispute Resolution Services of North Texas has mediated thousands of resolutions restoring communication where there was none and often settling disputes where there was no end in sight. Mediators carefully with compassion and concern untangle the toughest of disputes. When your own efforts to solve a problem are ineffective, it may just be time to call a mediator.
---
Serving Tarrant County and surrounding areas, Dispute Resolution Services of North Texas Inc. is a non-profit community dispute resolution organization of professional volunteer mediators who provide affordable mediation services and teach mediation and dispute and conflict resolution, an effective alternative to litigation. Learn more about the mediation process click here.  
Author: Annette Smith received her Bachelor's degree in Communication from Texas A&M University.  During her employment with DRS North Texas, she has developed the mediation training program, provided support in volunteer management, and managed over 1000 mediation cases.  In 2015, she became the agency's marketing coordinator.